Laser Teeth Whitening in Hurstville
Introducing Zoom!™ In-Surgery Laser Teeth Whitening in Less Than 2 Hours!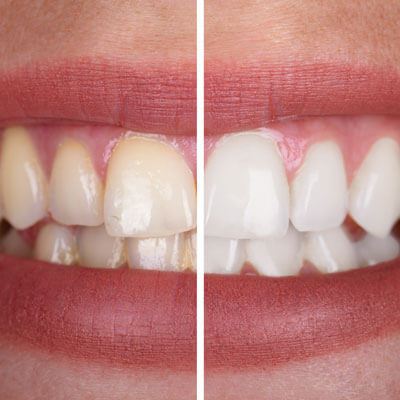 An extremely popular cosmetic treatment, Zoom™ laser teeth whitening is a solution for patients who are wanting to reduce staining or discolouration. Whether you have a special occasion or simply want to brighten your pearly whites, GC Dental will help you achieve your most dazzling smile in an effective, healthy way.
Mini Consult: What to Expect
You will need to come in for a mini 10-minute consult to assess your suitability for Zoom!™ Teeth whitening. It is possible that you may require a professional scale and clean prior to the whitening appointment to ensure that you maximise the outcome of your teeth whitening procedure. There will be an additional fee for this.
Benefits of Laser Teeth Whitening
If you are unhappy with the shade of your teeth and how it mars the overall appearance of your smile, you may wish to consider teeth whitening. With the advent of advanced solutions from Phillips Zoom, today's patients are presented with feasible and accessible options for creating a beautiful smile overnight. This in-chair whitening treatment offers a quick, painless and cost-effective solution in the form of an in-chair laser treatment.
Almost anyone can benefit from a brighter smile. For most patients who opt for our in-chair laser whitening method, they can expect a whiter smile in just 1-3 visits. In fact, it is possible to achieve visible shade difference within a single appointment that takes no more than an hour!
Compared to over-the-counter (OTC) home whitening kits, the in-chair Laser Teeth Whitening is able to achieve better whitening effects within a much shorter time frame. This is largely due to the higher concentration of Hydrogen Peroxide used in professionally applied bleaching systems. The in-office whitening system employs a 32% Hydrogen Peroxide Concentration (HPC) gel as compared to take-home products that typically contain HPC of 6-15%. To achieve the same whitening effect as a high concentration product, a low HPC agent would require more individual treatments.
Once the hydrogen peroxide bleaching agent is applied, the dentist will use a high-intensity light source to catalyse the light-activated gel. As the light speeds up the whitening process, the fast-acting gel penetrates and breaks up the stains, effectively removing the discolouration from the enamel and dentin. Consisting of approximately three 20-minute sessions, the in-office laser treatment may be completed within a single hour dentist appointment.
This treatment can remove tough extrinsic stains typically caused by years of tobacco abuse and intake of dark beverages like coffee and red wine. In some cases, it can even remove intrinsic stains that may be genetically inherent or due to in utero exposure to antibiotics.
Frequently Asked Questions
Whitening treatments help restore your teeth's former brightness, or can reduce stains that you've had all your life. Dental professionals can help you understand how bright your teeth can become through teeth whitening – patient results can vary based on a wide variety of factors like background, age, and predisposition.
There are numerous ways to provide this treatment. One popular method is by in-chair whitening, administered by a dental professional. Another is a take-home kit, which our practice can provide for you.
How long does in-chair Zoom™ teeth whitening take?
Where do I get take home whitening kits?
Take-home kits are specially modified just for you, by our dentists. This involves taking an impression of your teeth and tailoring a custom-moulded tray. We'll then show you how to use the kit at home.
Teeth whitening is one of the safest and most effective dental cosmetic treatments available on the market. It has also been proven safe for your enamel and dental restorations. The fact that the Zoom in-chair laser whitening method is administered by a qualified cosmetic dentist in a controlled clinical environment makes it an even safer treatment procedure.
Whitening your teeth under the supervision of a cosmetic dentist has many safety benefits. The dentist will make use of protective goggles, gels and gum separators to ensure that your gums and other soft tissues in your mouth are not exposed to the active bleaching ingredient. The dentist is also a trained clinician who is able to react in a calm and professional manner in the unlikely event of an allergic reaction or emergency situation. The dentist's office is also a properly sanitised environment that minimises cross-infection, which makes it ideal for the teeth whitening procedure.

Laser Teeth Whitening in South Hurstville NSW | (02) 9547 2367