Dental Implants in Hurstville
What Are They?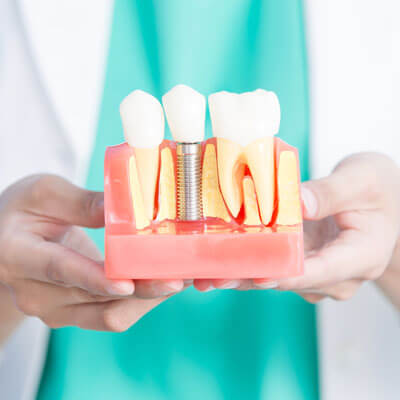 Dental implants are designed to replace missing, loose or broken teeth. Implants are used when they integrate with the jawbone and act as a replacement tooth root. A Crown is attached onto the dental implant to rebuild the top of the tooth.
Dental Implants have two main treatment phases. Firstly, they are placed into the jawbone. Secondly, the implant has the top of the tooth placed, the crown and abutment. These two stages have been traditionally performed with between 3-6 months healing in-between.
At GC Dental, we're proud to have advanced technologies and can complete your treatment from start to finish, from the surgery to the porcelain crown being made onsite with our experienced Dental Ceramists, even your ongoing hygiene, checkups and follow up care. From your first consultation, our practice makes use of its onsite Conebeam CT 3D Digital X-Rays system and onsite Dental Laboratory to create a virtual 3D model of your mouth.
As a full service practice, we can help you find the implant that works for you. The first step is a consultation with our dentist, where detailed scans of your jaw can be taken in order to plan for the procedure.
Don't Let Missing Teeth Ruin Your Life
If you are missing any of your natural teeth, our practice can provide you with teeth that look and feel like your very own. Implants will enable you to enjoy the simple pleasures of unrestricted eating. They can also help prevent deterioration of the jawbone caused by loss of teeth, so your face retains its natural shape – conventional dentures usually lead to accelerated bone loss. Implants are made of materials, such as the metal titanium, which are compatible and can bond strongly to the living bone tissue.
What to Expect
The implant procedure is short and painless, done so under local anesthetic or intravenous sedation. Join the hundreds of thousands of people who are enjoying renewed comfort, confidence, and peace of mind with dental implants.
The best way to find out if you are a candidate for care is to book a consultation with us to find out. Extended and up-front payment options will be discussed and our staff can answer any questions you may have.
Types of Implants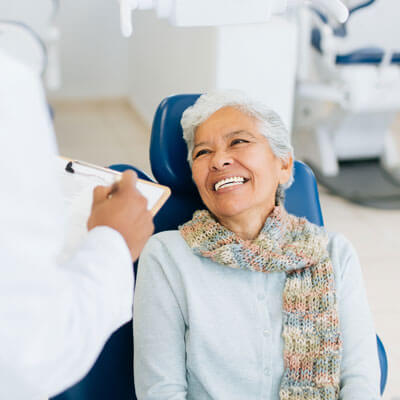 The term 'ALL-ON-4′ refers to the replacement of ALL teeth ON FOUR dental implants, which support them. It is a modern technique where the back implants are tilted 45° to provide the required support for total rehabilitation. The tilting the back of implants helps overcome bone deficiencies often found in the back of the jaws and most often avoids the need for bone grafting.
Since less implants are used by comparison to older methods, there is less in the way of achieving optimal results. It also allows for simpler long-term maintenance and uncomplicated cleaning.
The implants themselves are small titanium fixtures that are inserted into the jawbone and have, for a long time, been used to support a tooth or a 'Bridge' of a segment of teeth. The fixtures form the foundation for the prosthetic replacement teeth. However, when we replace a full set of teeth, often referred to as full arch rehabilitation, whether in the upper or lower jaws or both, we do not need to place an implant under every tooth. We place 2 implants in the front of the arch and 2 in the back at an intended angle, and together these form the required foundation to support the prosthesis. By placing them at an angle, we are able to avoid the parts of the jawbone that are of a typically poor quality. This not only means that we can avoid the need for bone grafting, but we can also rely on these to reliably support a prosthesis fitted within days of the surgery.
By using fewer implants to support the prosthesis there is a smaller number of components, thus more versatility to design the most optimal function and aesthetics. Importantly there is also less in the way of cleaning, which helps simplify the hygiene and maintenance over time.
This procedure is the most common treatment in our clinic today for full arch rehabilitation and when appropriate it is often suitable for all lower jaws and most uppers. But even in Upper cases with extremely poor quality or quantity of bone, at the All On 4 Clinic we can still offer reliable and streamlined immediate solutions using our own All On 4 Plus treatments.
The replacement of a single missing tooth with an implant and crown has many benefits. The main benefit is that the tooth is replaced with a long-term result that does not involve any risk to any other teeth.
A missing tooth should be replaced soon after tooth removal to prevent bone loss which may complicate your Dental Implant Treatment.
During consultation, a personalised plan will be created for you. Your dental plan will include time and appointments, costs, benefits and risks.
Receiving mini dental implants is usually a quick and easy one-appointment procedure. The miniature implant or implants mimic your natural tooth roots and are used to retain a fixture that is incorporated into the base of the denture. When seated the denture will rest comfortably on your gum tissue and enable you to talk with confidence and eat with ease. Your denture will feel totally secure.
This surgery is minimally invasive, performed in our office usually under a local anaesthesia, and requires no stitches or long healing times. They are designed to function immediately because of the self tapping action. The implants are placed in the jawbone with the head protruding above the gum-line to provide a solid foundation for securing your denture or fixed bridge system.
This treatment is proven to be durable and long lasting. The longevity of a mini dental implant is comparable and in many cases exceeds conventional implants.
The advantages include:
Inserted directly through the gum tissue and into the underlying bone. There is no need to make a surgical incision into the gum.
Less post-surgery irritation and a comfortable margin of safety during insertion because of the way they are inserted.
Mini dental implants are not only constructed of titanium like conventional implants, but a blend of other metals, resulting in one of the strongest materials available. They are also smaller and stronger than conventional implants.
If a denture patient has sufficient bone mass, the this option will withstand normal biting forces in the same way that natural teeth do.
Learn More Today
Curious about what types of dental implants are right for you? We'd love to help you decide the best way to move forward with unlocking a beautiful smile. Contact our team today to get started and book your visit.
CONTACT US »

Dental Implants in South Hurstville NSW | (02) 9547 2367