Sports Mouthguards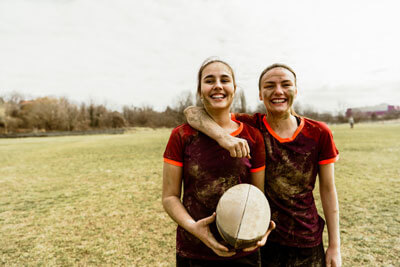 If you're athletic, or have a child involved in contact sports, chances are you know all too well the dangers and seriousness that a mouth injury entails.
Thankfully, we're proud to offer custom-fit mouthguards to help keep your smile safe during activities. The best part? Getting your mouthguard has never been easier.
Why Choose a Mouthguard?
Mouthguards protect your teeth from being cracked, knocked out, and chipped. They can also help prevent cuts and lacerations as well as jaw injuries.
While you may have seen mouthguards in the supermarket or specialty stores advertised for protection, wearers of generic mouthguards are twice as likely to suffer a concussion than those who wear custom built mouthguards.
At GC Dental, our custom mouthguards are designed to:
Allow speaking and does not limit breathing
Stay firmly in place during action.
Provide a high degree of comfort and fit.
Be durable, easy to clean, odorless and tasteless.
Schedule Your Visit
We'd love to speak with you about better ways to protect your teeth during sports. Contact our team today to book an appointment and learn more.

Sports Mouthguards in South Hurstville NSW | (02) 9547 2367