Dental Implants in Hurstville
High Quality Dental Care You Can Count On
Dental implants are designed to replace missing, loose or broken teeth. Implants are used when they integrate with the jawbone and act as a replacement tooth root. A Crown is attached onto the dental implant to rebuild the top of the tooth.
Dental Implants have two main treatment phases. Firstly, they are placed into the jawbone. Secondly, the implant has the top of the tooth placed, the crown and abutment. These two stages have been traditionally performed with between 3-6 months healing in-between.
We're proud to have advanced technologies and can complete your treatment from start to finish, from the surgery to the porcelain crown being made onsite with our experienced Dental Ceramists, even your ongoing hygiene, checkups and follow up care. From your first consultation, our practice makes use of its onsite Conebeam CT 3D Digital X-Rays system and onsite Dental Laboratory to create a virtual 3D model of your mouth. As a full service practice, we can help you find the implant that works for you.
Call (02) 9547 2367 to book your consultation today.
Not ready? Fill out the form below to get our dental implants brochure & a voucher for 10% off your treatment when ready!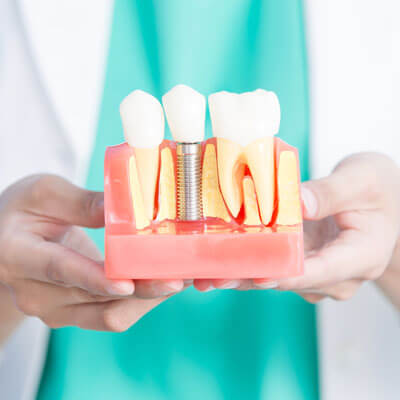 Don't Let Missing Teeth Ruin Your Life
If you are missing any of your natural teeth, our practice can provide you with teeth that look and feel like your very own. Implants will enable you to enjoy the simple pleasures of unrestricted eating. They can also help prevent deterioration of the jawbone caused by loss of teeth, so your face retains its natural shape – conventional dentures usually lead to accelerated bone loss. Implants are made of materials, such as the metal titanium, which are compatible and can bond strongly to the living bone tissue.
What to Expect
The implant procedure is short and painless, done so under local anesthetic or intravenous sedation. Join the hundreds of thousands of people who are enjoying renewed comfort, confidence, and peace of mind with dental implants.
The best way to find out if you are a candidate for care is to book a consultation with us to find out. Extended and up-front payment options will be discussed and our staff can answer any questions you may have.
Types of Implants
The replacement of a single missing tooth with an implant and crown has many benefits. The main benefit is that the tooth is replaced with a long-term result that does not involve any risk to any other teeth.
A missing tooth should be replaced soon after tooth removal to prevent bone loss which may complicate your Dental Implant Treatment.
During consultation, a personalised plan will be created for you. Your dental plan will include time and appointments, costs, benefits and risks.
Receiving mini dental implants is usually a quick and easy one-appointment procedure. The miniature implant or implants mimic your natural tooth roots and are used to retain a fixture that is incorporated into the base of the denture. When seated the denture will rest comfortably on your gum tissue and enable you to talk with confidence and eat with ease. Your denture will feel totally secure.
This surgery is minimally invasive, performed in our office usually under a local anaesthesia, and requires no stitches or long healing times. They are designed to function immediately because of the self tapping action. The implants are placed in the jawbone with the head protruding above the gum-line to provide a solid foundation for securing your denture or fixed bridge system.
This treatment is proven to be durable and long lasting. The longevity of a mini dental implant is comparable and in many cases exceeds conventional implants.
The advantages include:
Inserted directly through the gum tissue and into the underlying bone. There is no need to make a surgical incision into the gum.
Less post-surgery irritation and a comfortable margin of safety during insertion because of the way they are inserted.
Mini dental implants are not only constructed of titanium like conventional implants, but a blend of other metals, resulting in one of the strongest materials available. They are also smaller and stronger than conventional implants.
If a denture patient has sufficient bone mass, the this option will withstand normal biting forces in the same way that natural teeth do.
The term 'ALL-ON-4′ refers to the replacement of ALL teeth ON FOUR dental implants, which support them. It is a modern technique where the back implants are tilted 45° to provide the required support for total rehabilitation.
Read more about All-on-4 Dental Implants.
Not quite ready for a consultation? fill out the form below for a complimentary dental implants brochure, which includes your voucher for a free consultation 10% off treatment.
Call (02) 9547 2367 for any questions or to get started!

Dental Implants in Hurstville
Terms & Conditions: Each promotion cannot be used in conjunction with any other promotion and are not substitutable or redeemable for cash. To redeem the promotion, the patient must mention the promotion when booking the appointment.
Services will only be provided when suitable and appropriate. Additional treatment may be recommended at an additional cost. Any additional treatment and cost will be discussed with you before being carried out.
Prices are subject to change.
Can be transferrable to a new patient family member.